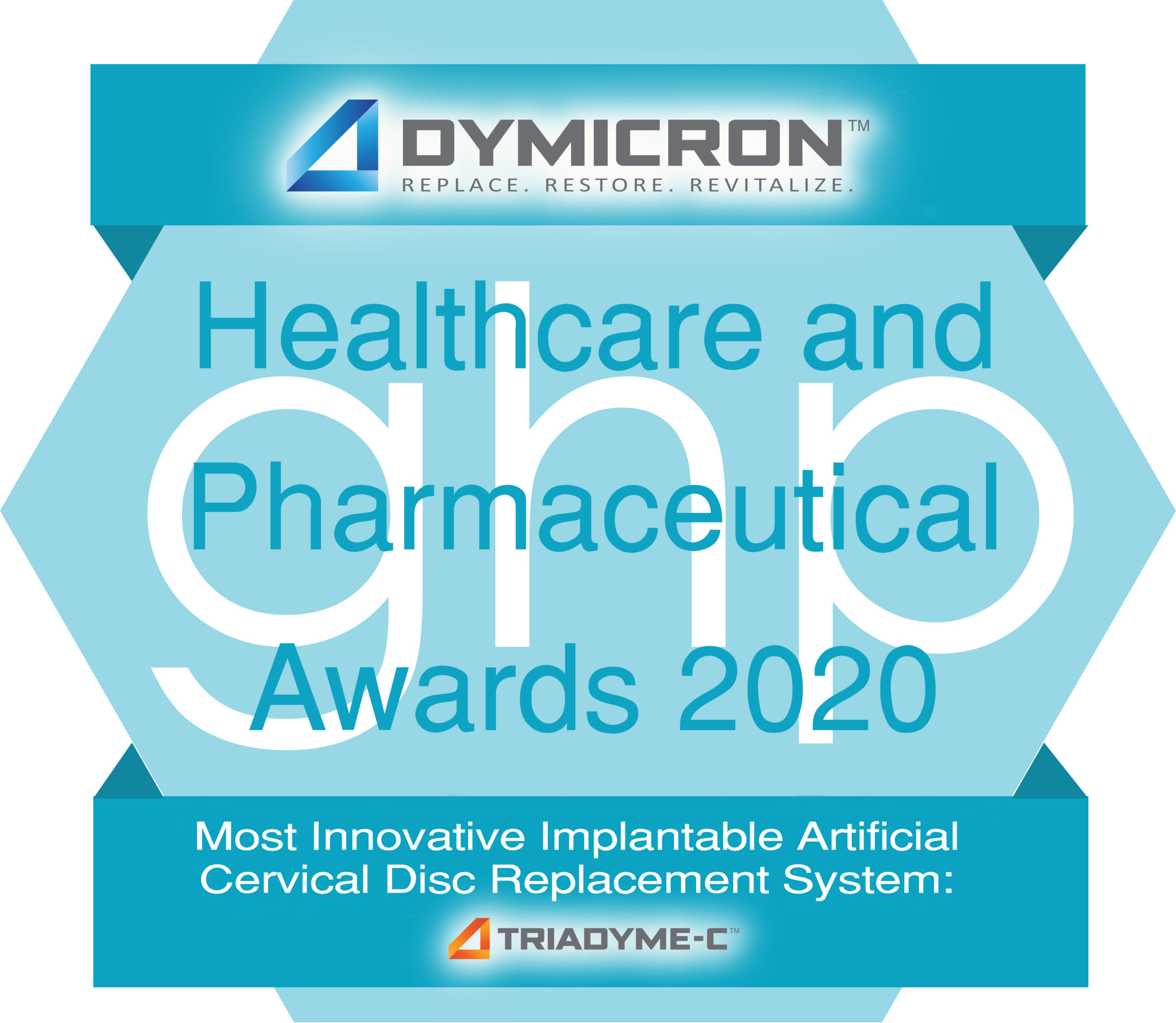 Man-made Diamond Leads the Way in Next-Generation Cervical Disc Replacement Device
Dymicron is a privately-held medical device company that has developed a next-generation man-made diamond material for orthopaedic applications. Dymicron is using this material in its artificial cervical disc replacement system, Triadyme®-C. Recently, we caught up with Dymicron's Chief Strategy Officer, Ted Bird, to find out more about the company and the application of their innovative material to their device's unique Tri-Lobe design.
Innovation-driven medical device company, Dymicron, is advancing a breakthrough, next generation cervical total disc replacement system called Triadyme®-C. This disc utilizes a new proprietary man-made diamond material, which generates nearly zero detectable wear debris, and is configured to replicate the natural motion and mobility of a normal spinal disc, utilizing a Tri-Lobe articulation design. Dymicron was originally founded in 1997 by Bill Pope, PhD, a professor of Chemical Engineering at Brigham Young University and the founder of several successful synthetic diamond companies. The rationale behind the firm's inception was Dr. Pope's increasing awareness of the limitations of materials commonly used for orthopaedic joint replacement and the debilitation that often faces patients with failed implants and revision surgeries. This led him to the idea of using synthetic diamond in orthopaedic applications. Sadly, Dr. Pope passed away in 2010, but his vision for revitalizing patients' lives by applying superior materials and innovative engineering design lives on at Dymicron. The firm is committed to his legacy of improving the longevity and performance of motion preserving implants with the Triadyme®-C Cervical Total Disc Replacement System. "What makes us unique and sets us apart from our competitors is our unique polycrystalline diamond material. With the same hardness as natural diamond, polycrystalline diamond produces virtually no detectable wear and, therefore, minimizes the risk of any wear debris-related complications and can last several patient lifetimes," states Ted Bird. "The polycrystalline diamond material allowed us to engineer a novel Tri-Lobe articulating surface design, which emulates the complex coupled motion of a natural spinal disc while providing stability throughout the range of motion." The company has been successful in achieving remarkable progress in the engineering, design, and manufacturability of Triadyme®-C without taking in any outside institutional or venture capital funding thus far. To date, the company has been funded entirely by "friends and family" investments. According to Mr. Bird, the company is currently raising capital to fund an US IDE clinical trial and to expand the commercialization of its unique cervical disc in select international markets. With over 600,000 surgical procedures annually, the treatment of cervical disc disease is a multi-billion dollar market. Cervical disc replacement is the fastest growing segment of this market. Cervical disc replacement currently accounts for less than 10% of cervical procedures but is projected to grow at 20% per year over the next five years. The Triadyme®-C system has received the CE mark. It is currently undergoing a limited, controlled product release starting in Germany as Covid-19 conditions continue to improve. "The pandemic definitely had an impact on our commercial release plans last year as elective surgeries were cancelled and postponed," says Mr. Bird. "However, these patients will still need to be treated, as they are suffering from the debilitating pain of degenerative disc disease, so we have prepared our logistics and field service teams to meet the needs of our surgeon customers." The firm is fortunate to have a leading cervical disc replacement surgeon on its Board, Dr. Armen Khachatryan. Dr. Khachatryan practices in Salt Lake City, Utah, near the company's headquarters in Orem, Utah. Dr. Richard Guyer from the Texas Back Institute in Dallas and Dr. Pierce Nunley with the Spine Institute of Louisiana in Shreveport are also serving as clinical advisors. The Triadyme®-C cervical disc is currently not available in the United States. However, Dymicron is preparing its IDE submission to the FDA to conduct a clinical trial, which will eventually support its future market introduction in the US. At the same time, Dymicron is working to expand commercialization in Europe and other select international markets that recognize the CE Mark. Dymicron will continue to stay closely connected and engaged with its spinal arthroplasty surgeon experts, being responsive to feedback, guidance, and advice on the Triadyme®-C implants and instruments.
ghp Healthcare & Pharmaceutical Awards